SKYHARBOR - FREEBIE FRIDAY / 24% DISCOUNT / EXCLUSIVE EUROPEAN SHOW
Catch Skyharbor at
EUROBLAST 2012
alongside some other amazing artists from the technical and progressive metal genres. See below for a full line up. 
Interview: James Monteith (Basick Records/TesseracT) interviewed by Perry Kakridas (Circles)
We thought it about time that we did some TEAM BASICK interviews, catching up with the team behind the label. Who better to start with than James Monteith, Basick Records veteran, press guru, ambassador, resident drunk and guitarist in TesseracT as well as being a partner in the Music PR firm Hold Tight! PR. We threw him into the bear pit with Perry Kakridas, front man of Basick signings Circles and what followed is one of the most surreal interviews you may witness this year.
James is currently on tour in the USA/Canada with TesseracT who are supporting Protest the Hero and Maylene and the Sons of Disaster. Keep up with the band on tour with their video diaries. 
NAME: James Monteith
WEAPON: Guitar for Tesseract (Century Media) and spazzfingers for Basick (keyboard genius)
BAND: Tesseract (Century Media)

Interviewed by: Perry from Circles
Perry: So, how's the US tour going? I heard that you signed some boobs.. Please elaborate, SLOWLY.

James: Tour is going great.. The shows have been well attended with a fair few people turning out who know us which is amazing. PTH and Maylene are great guys have been fun to hang out with. Canada was super snowy, Texas was viciously sunny, we have a shitty van that stinks of rotten fast food, farts and armpits. So all is good!

Yeah we signed boobs. You see we're big shots now and do this kind of stuff. The signee came over in a sweaty tight white t shirt, clearly wanting some Tesseraction. The t-shirt was tight on the boobs and if you looked closely the shapes of slightly erect nipples could be made out. We each signed the curves of the ample breasts, except for Dan who went straight for the nipple. It was crazy.
(Now If we just quickly skip over the fact that it was a larger man, that'd be great.) Living the dream.


Perry: Mmmm.. So you're touring on the back of your first album, One. How do you think it's been received?

James: Really well! We couldn't have asked for a better response from people. We're seriously humbled by the fact that people 1000s of miles away from home dig what we do. Most of the reviews have been great too, which is nice!
Perry: Alright now, shut up about your band for a minute. We all know about bloody TesseracT. What the hell do you do over at Basick Records?

James: At the moment not much.. Haha Well I guess I'm acting as a US ambassador! Most nights on tour I've had people ask about Basick and taken the opportunity to plug the bands. There's this band called Circles who I've been talking about a bit. I like to describe them as heavy prog rock with a hint of pugwall. Sound about right? People have been asking after Aliases too, and I obviously say they're the best band in the world, because I'm scared of Leah.
I started at Basick doing press, but I'm not doing much of that at the moment due to other commitments.

Perry: Basick Records? Never heard of him. Hold Tight! PR does some great work on the other hand, which brings me to my next question…Why in the hell would they want you?

James: Good question. I can barely write, I can't spell, I'm disorganized and I like to get drunk and say inappropriate things to the wrong people. They're mugs.

Perry: Alrighty….Market this band. 1, 2, 3.. GO! (Nickleback)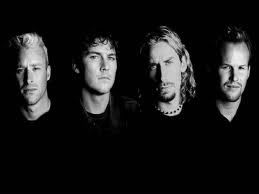 James: A master of facial hair growth, Chad Kruger ups the ante with his latest effort. His hair flows smoothly from short to long in subtle waves of beauty, but still retaining the jagged edges that are crucial to its genius. If well groomed tidy facial hair is a vital part of your musical experience, make sure you pick up some Nickleback now!

Perry:  You almost had convinced me there for a minute. But then I remembered it was Nickleback ;) Speaking of which, what did you have for breakfast?

James: Steak and eggs.

Perry: Delightful. Study this picture from a calendar I just saw at someone's house. If we can agree that there is a GIANT rooster in this photo.. Then who laid those eggs? Also is the house (in the top right-hand corner) really small, or are the children (and rooster) just really, really BIG? Also, why do non-Kentucky Fried chickens scare me? Discuss…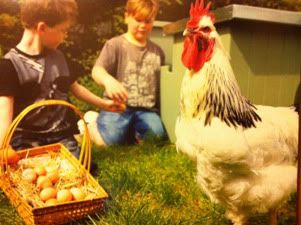 James: Well maybe the rooster is a homaphradite (check spelling!) (check it yourself you lazy git…Lisa x) and is capable of reproduction? We must not forget this tiny but significant group in the chicken community. That would be highly ignorant and disrespectful. Either that or they were laid earlier by a chicken, or the kids are chickens in disguise.Those houses are for locking up the children I think..
I don't think Kentucky Fried Chickens are actually chicken, so I guess your fear simply stems from a deep inner hatred to the whole chicken race.


Perry: Look at this screenshot. Just like the previous question, this picture has nothing to do with you.
James: I get a semi whenever I see those shoulders.
Tesseract are on tour now, their debut album 'One' is also out now and you can pick it up here.
Not content with a little interview - we decided that each of the team should complete a little survey about their team mate as well….

1 - Sum up James in 3 words:
Barley: lanky groove-ridden boozehound

Chad: BIG. TALL. TEDDY. (BEAR)
Lisa: Rum guzzling rockstar

Sean: Pure sound, man

2 - What does James do at Basick:
Barley: That's actually a VERY good question…

Chad: Brushes his long locks of hair 100 times on each side…nothing gets that beautiful all by itself! 
Lisa: HAHAHAHHAHAH! He looks really good in our t-shirts ;)

Sean: Makes us think we suffer from dyslexia.

3 - If James were an animal, which one would he be:
Barley: James IS an animal.
Chad: Giraffe…need I say more!?!
Lisa: 3 toed sloth. Slow, wide eyed, massively hairy, hangs…in…trees?!
Sean: Giraffe, duh!
4 - James' most attractive feature:
Barley: Shouting SLAYYYEEEERRRR at the top of his voice when drunk.
Chad: Are you asking me this question to see if I am attracted???
Lisa: His wife. 
Sean: His awkward beauty.
5 - James' most annoying habit: 
Barley: Shouting SLAYYYEEEERRRR at the top of his voice when drunk.
Chad: Ummmm….spelling!
Lisa: Spelling….
Sean: He only tells me he loves me when he's drunk. Hurts my heart feelings, man.
6 - In a fight between James and Jim Carrey, who would win and why?
Barley: Doppelganger! I seriously doubt that you'd be able to tell who was coming out on top. They are one and the same.
Chad: James because he would outwit Jim Carrey…Jim Carrey broke up with Jenny McCarthy….he can't be too bright!!!
Lisa: I hope James…Jim Carrey is annoying as hell. 
Sean: I would like to see Jim Carrey try to suplex James through a table.
7 - Rate James' taste in music….
Barley: Pretty damn good, that's why he's here :) And like the rest of us, he's also never afraid to pin his heart on his sleeve for some utterly rubbish bands too.
Chad: Well, he is in TesseracT…his taste of music can't be judged!
Lisa: SLAYYEEEEEEERRRR. James has possibly the worst taste in music. Ever.
Sean: On a scale of Bad to Exquisite, his taste is Exquisite. 
8 – I like James because……
Barley: He shouts SLAYYYEEEERRRR at the top of his voice when drunk.
Chad: Because I always see him wearing an ADO shirt!
Lisa: He makes me look good ;)
Sean: He's pure sound, man.