A Public Apology from Basick Records
We'd like to take this opportunity to apologise to our friends and fans worldwide who have experienced longer shipping times than normal from our Basick store. By way of apology we asked Chad Basick to take a picture for all his legion of gay4chad fans, to express our sincere dismay about this situation (look how handsome and strong that chin is!) 
A few things happened recently leading to a 'perfect storm' scenario which led to our merch taking longer than normal to arrive. The dog ate it. (not buying it?!) - ok…we were attacked by aliens… (if we say it with a straight face..does it count?!). 
Nah, what happened was, we moved our merch to a new facility, leading to a handover taking place. At the same time we put on a 25% sale for record store day, and grossly underestimated the popularity of that sale - we sold as much in 24hrs as we normally do in a month. And then we ran out of coffee. Anyone in the merch packing business knows coffee is an essential part of the process. 
So - we are back on track, we are working day and night to get those orders out to you and we also whole heartedly apologise if you mailed our orders@basickrecords.com and didn't hear back. Our guy was so busy printing, pressing, packing, folding and trying to ignore his coffee cravings that he also didn't manage to respond to your emails in a timely manner. 
We are still a fledgling label, we appreciate every single order and it breaks our heart to think of some of you having a hard time with this. So please accept this pic of Chad (our A&R guy, it's his fault we have all these amazing bands) from us by way of apology. As we grow, we face these problems and have made a promise that we won't ever bullshit you about what's up. (Seriously, it was the dog!) 
If you are still waiting on merch, it should arrive soon. If you have any problems - email us orders@basickrecords.com and we'll do our best to get back to you asap. Include details of your transaction, paypal receipt etc and it will speed up the process.  
If you really need to get us, shout at us, or send us a virtual hug you can message us on Facebook and we'll get back to you, or Lisa Basick will, she's always lurking round those parts chatting to people about cat videos. 
We love you guys, cheers for sticking with us and supporting our bands. 
Team Basick x
MIDSUMMER MELTDOWN - SALE NOW ON!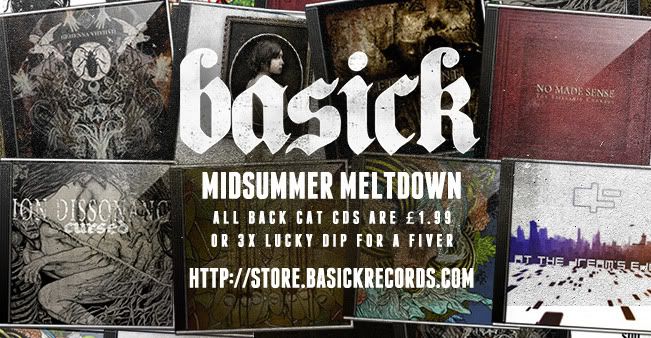 BASICK's MIDSUMMER MELTDOWN!

In true British Shakespearean fashion, we're offering you an absolute dream this Midsummer's Night:

For twelve nights from June 21st all back catalogue CD's are now on sale for a tempestuous £1.99 each!

Or why not fill some gaps as you like it, with our '3 for a Lady Godiva' offer!

Head over to the store now, where there's much ado going on!
http://basickrecords.com/store


Basick Birthday Bash - the blog.
On the 25th September 350 people descended upon Luton University Union to celebrate the 5th Birthday of Basick Records. Why Luton? Basick was born in Luton and label boss Barley decided to bring it home for a party to say thanks to everyone who has supported the label over its first 5 years.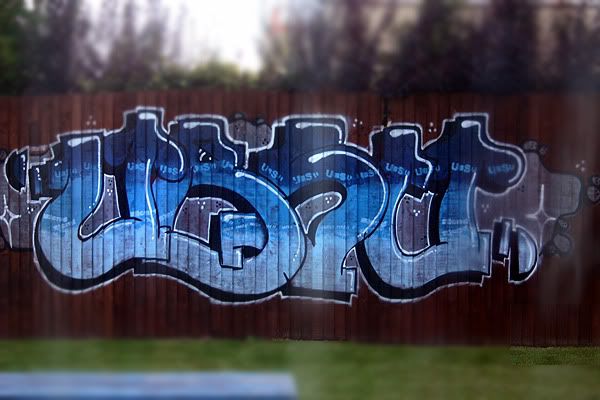 Two of the Basick team are based in Scotland, Sean handles all the design and web development for Basick, whilst I look after the marketing and social media and we decided to fly down to celebrate with the rest of the Basick family. We weren't the only ones flying in for the free event, people jetted in from America and Germany to attend.
We managed to arrive early to to catch Chimp Spanner's sound check. In a few hours he'd be playing his first ever live gig, it was great to finally see him with a full band with no one else around.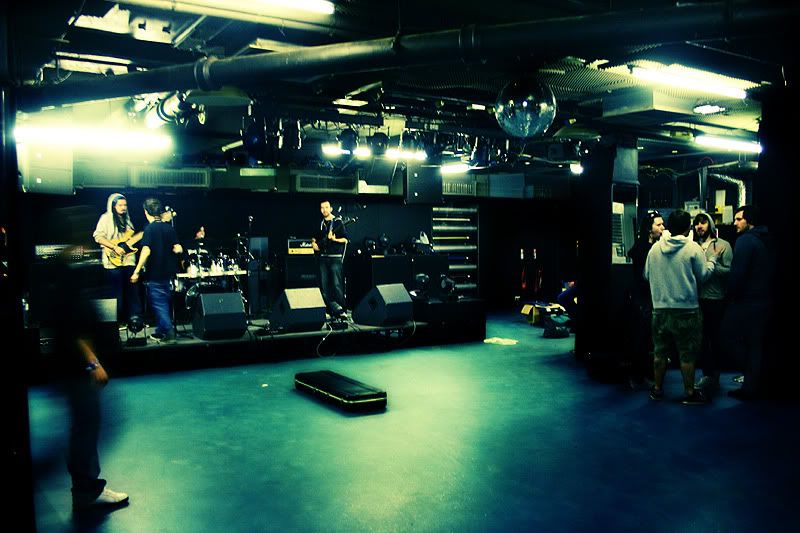 Jay was busy setting up the Basick Merch Desk - full of our new illustrator series tee's, new Ion Dissonance merch and loads of free sampler cd's for everyone at the party.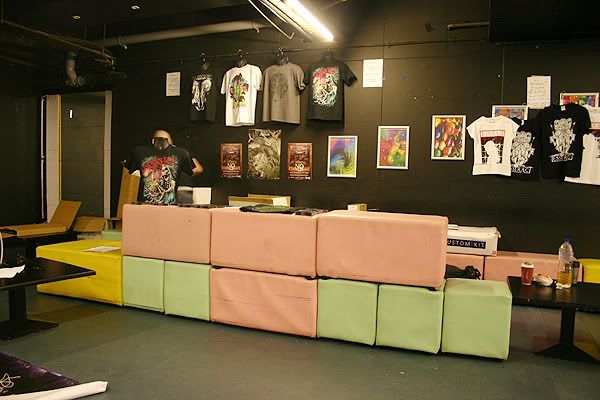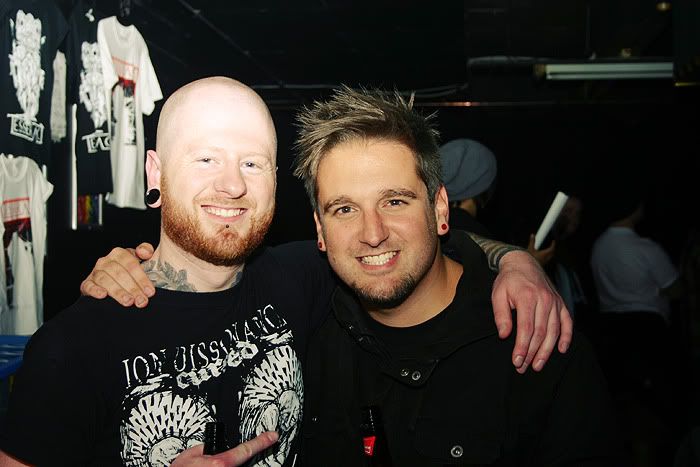 Jay at the merch desk with Barley from Basick Records.
As the night began it became apparent that a lot of people that we speak to through the label on Twitter and Facebook were there. Social media, love it or hate it, you have to admit its great for bringing people together and nowhere was this more apparent than at the Basick Birthday Party. People I'd only ever seen as small avatars and odd screen names were suddenly all together in one room, watching bands we all discuss, review and follow online.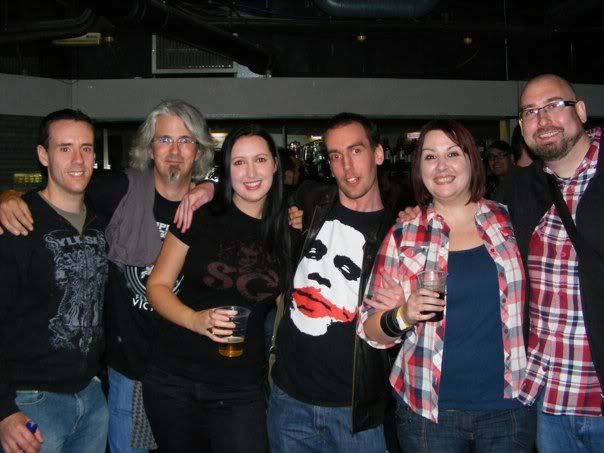 Some of the twitterati - giles triaxis, dizzydalek, cj_triaxis, legionaod, lisalovescheese and ross76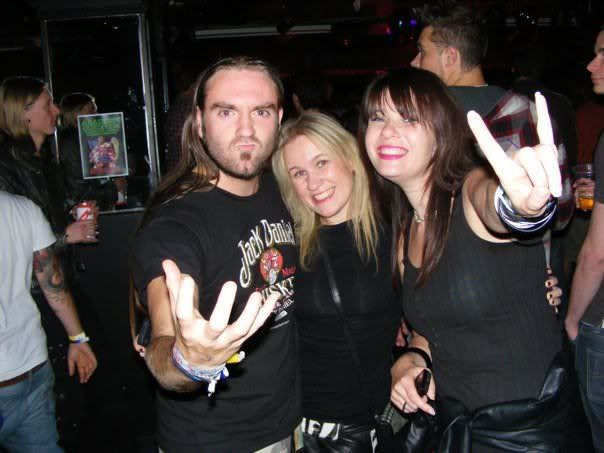 More of the twitter crowd - yellowxander, girlfromtheship and katfromearth
Chimp Spanner took to the stage backed by members of Monuments to play a blinding first gig to an excited crowd. It sounds even better live than recorded! I spent most of this set with a massive grin on my face and it was amazing to hear his music come alive. Having played the set live, I'm sure that it will add an extra dimension to the next album he records.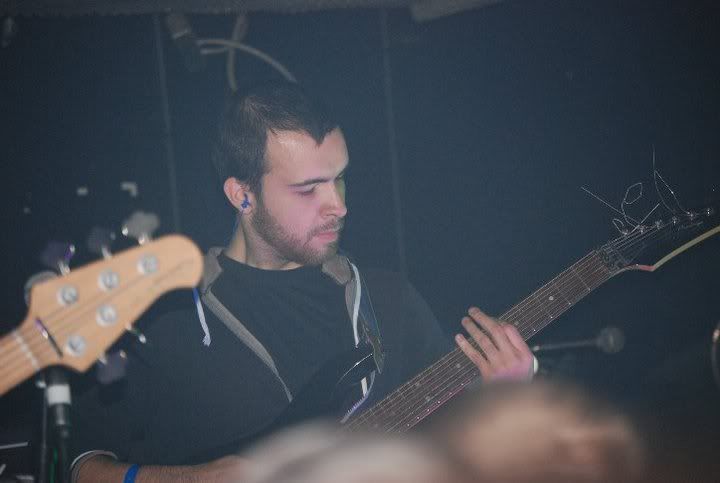 Chimp Spanner's first ever gig! (photo credit: Terry Smith)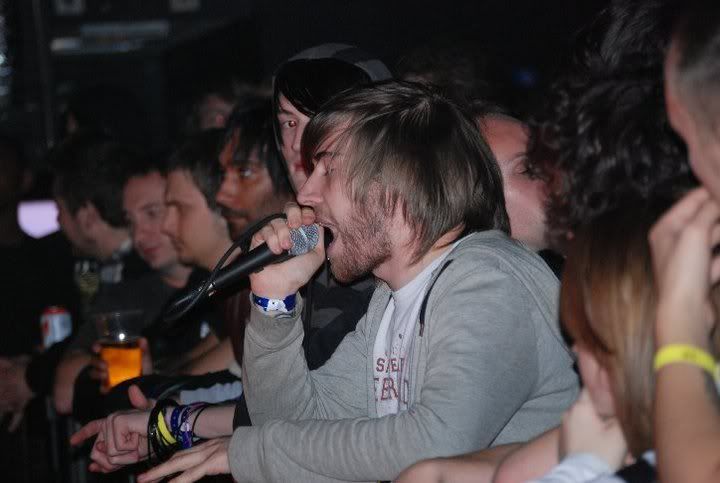 Between the Screams (photo credit: Terry Smith)
Next up to the stage were Between the Screams who played to an emptier room as everyone had either hit the bar or were outside having a smoke! They ploughed on regardless and won over the crowd, preparing the way for the next act of the night - Monuments.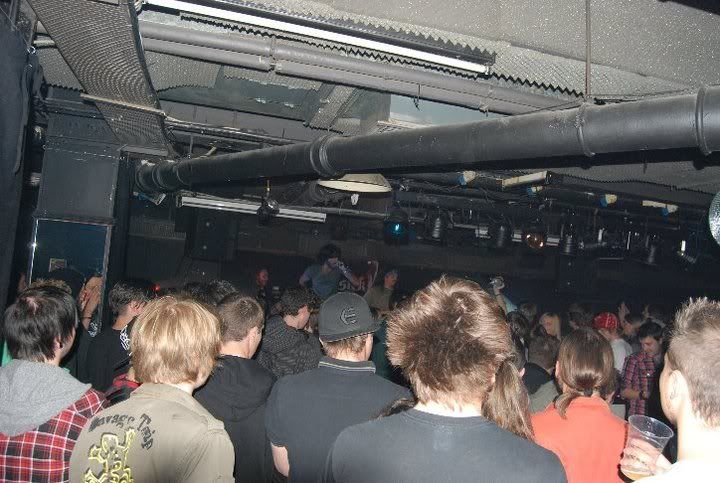 Monuments (photo credit: Terry Smith)
I met some of Monuments backstage who nervously proclaimed that they hadn't played many gigs and they were playing new songs tonight and they hoped the set would go ok. I gave Browne (guitars) a big hug and reminded him he was playing to the Basick family and faithful fans so the most important thing was to enjoy it. And enjoy it they did, taking Chimp Spanner back on stage with them to fill out the guitars. The room filled up, a pit got going and the whole room at one point was a mass of wriggling bodies, with massive grins all enjoying the set. Monuments earlier worries were unfounded. If this set was anything to go by these guys are going to be massive and deservedly so.
And then it was the moment I had personally been waiting for. Tesseract. Unfortunately due to Dan, the vocalist being ill, they were doing an instrumental set. I felt a bit gutted as I'd flown from Scotland to specifically see them but from the very first song my reservations about an instrumental set were blown away. Whilst they played their first few opening bars - the crowd filled in for Dan and sang all the words, really loud. It was an absolutely beautiful moment and the pit was absolutely bouncing and Tesseract sounded massive.  I was lucky enough to be side stage for their set so I got to see both the band and the crowd reaction. These guys are without a doubt, going to do something very special. They've recently signed to Century Media and both Steve and Jens from CM were in the crowd to see their new signings play.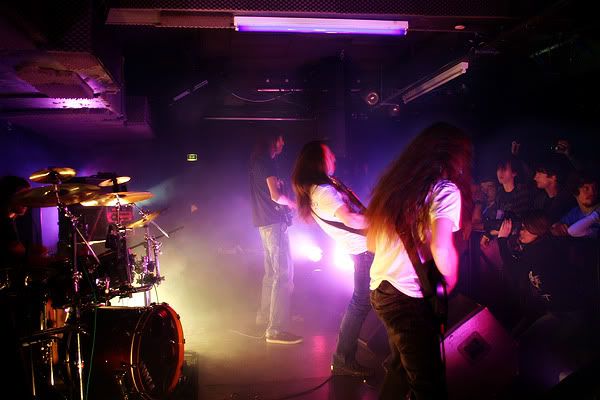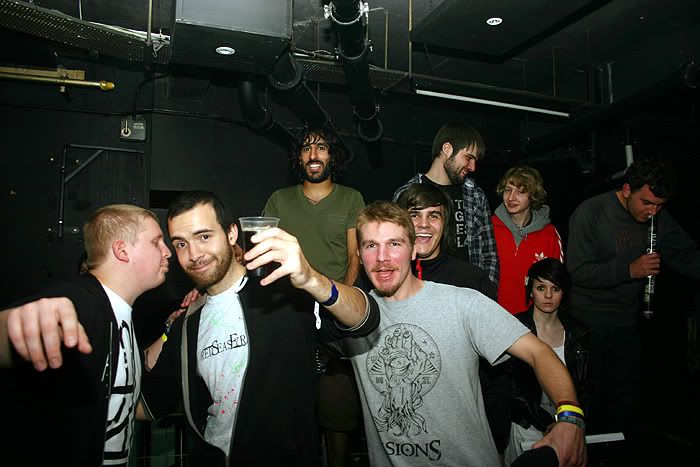 Some of the Basick family watching Tesseract: Chimp Spanner, Visions, Monuments
And all too quickly the night was over but the team had one final surprise up their sleeve for label boss Barley. Earlier in the week we'd surprised him with a happy birthday message board, packed with messages of support from our bands, the team, other label owners, friends, fans and family. At the end of the gig the team, led by Mama Basick and James Basick surprised Barley with a birthday cake onstage. Barley then took to the stage to accept the cake and thank everyone who'd come along to the event.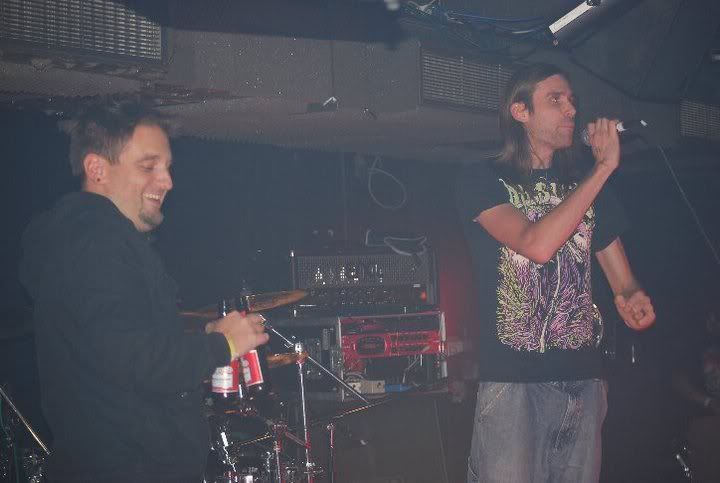 James from Tesseract/Basick introducing label boss Barley. (photocredit: Terry Smith)
Barley thanks the Basick fans for turning out to support the label
It was amazing to meet all the bands, the rest of the team and the whole Basick fanbase. If the first five years are anything to go by then the next five years are going to be even bigger, better and more explosive. Plans are already afoot for 2011 with albums from No Made Sense and Monuments expected and some surprise new signings!
Thanks to everyone who came to party with us, and if you didn't get a free cd, you can download one for free from our website here.
Our next post will be a photoslide show showing more of the pics that we couldn't fit into this blog from the event. We'll see you at the next one! \m/
Lisa Basick 
Check out some of the gig reviews:

Cack Blabbath - http://www.cackblabbath.co.uk/basickbirthday.php
Sonic Shocks - http://www.sonicshocks.com/BASICK-RECORDS-5th-Birthday-Party.php